LEADERSHIP CHANGES AT BLUEBERRY PARK
July 2017
Parents should have received a letter regarding important changes in leadership of the school from September. If you have not received it please click on the link below.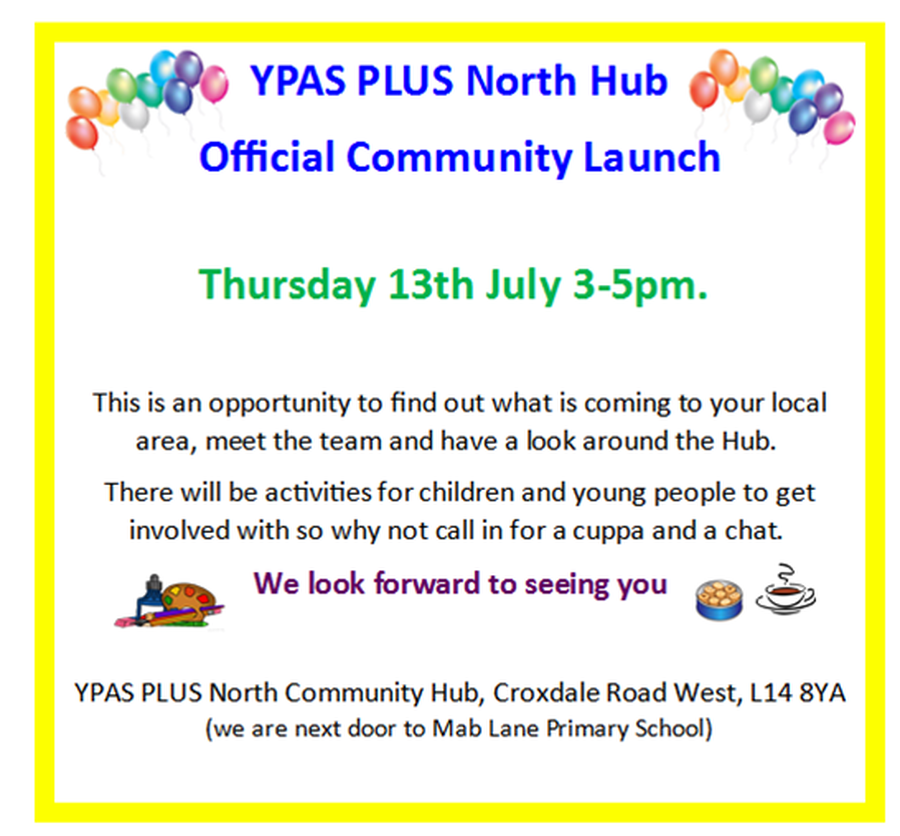 TRANSITION MEETING FOR RECEPTION PARENTS
Tuesday 4th July
Thanks to everyone who attended this morning's meeting; we hope you all found it useful. The Power point presentation can be found on the 'Mixed-age classes' page.
Paper copies of this presentation are also available from the main office.
If at any time you have any questions or concerns about the arrangements for September please contact the office to make an appointment to speak to Mrs Honey.
GREEN FOR GRENFELL DAY
Friday 23rd June
Schools across the country are coming together in support of the victims of Grenfell Tower, with a green for Grenfell dress code on Friday 23rd June.
This idea started off amongst a small amount of schools in and around Kensington and Chelsea, where Grenfell tower is located. However, schools across the country have joined forces in order to raise much needed funds for the victims of this terrible tragedy, sending a strong message of support to the families that have been at the centre of the disaster.
We are asking for a small donation of 50p per family, but if you wish to donate more this would be greatly appreciated.
All money raised will go to the Kensington and Chelsea Foundation's Grenfell Tower Appeal, which has been set up with the support of the London Emergency Trust Fund.
THE IMPORTANCE OF READING WITH YOUR CHILD
Studies show that reading for pleasure makes a big difference to children's educational performance. Evidence suggests that children who read for enjoyment every day not only perform better in reading tests than those who don't, but also develop a broader vocabulary, increased general knowledge and a better understanding of other cultures. Parents are the most important educators in a child's life – even more important than their teachers – and it's never too early to start reading together.
Please click on the link below for more guidance on how to support your child with their reading, and also for links to FREE e-books.
VANDALISM ON SCHOOL PREMISES - 27th APRIL
It is very rare that we need to share sad news on our website, but unfortunately there have been several acts of vandalism on our play equipment on the Infant side of the school. One incident occurred over the weekend, and another happened at 8.45pm last night (Thursday 27th April).
We are asking all of our parents and families to take a close look at the images which were captured by our CCTV cameras. If you recognise any of these youths, or you think you recognise them, contact the school immediately or telephone Crimestoppers on 0800 555 111.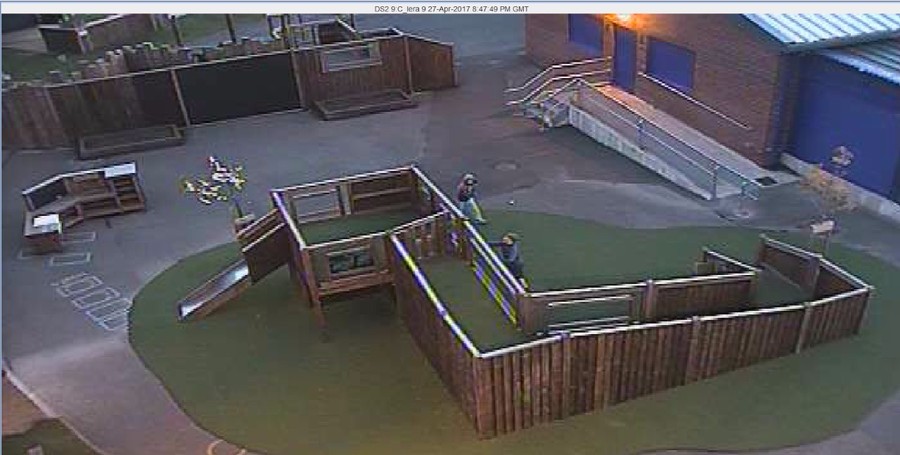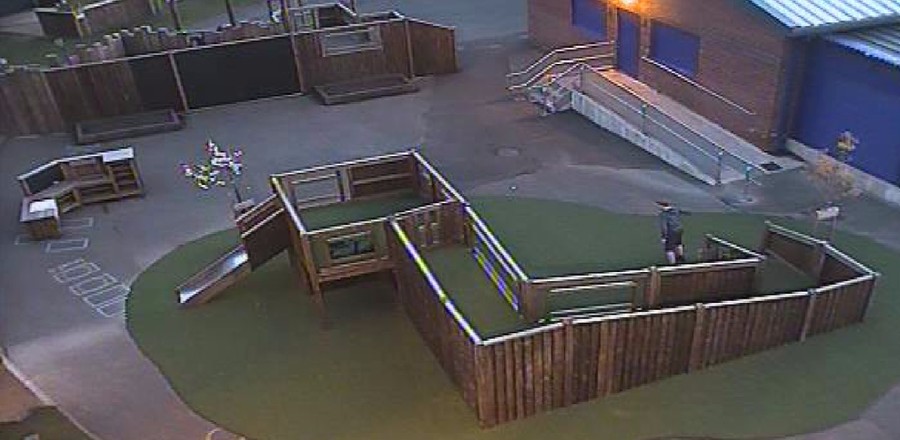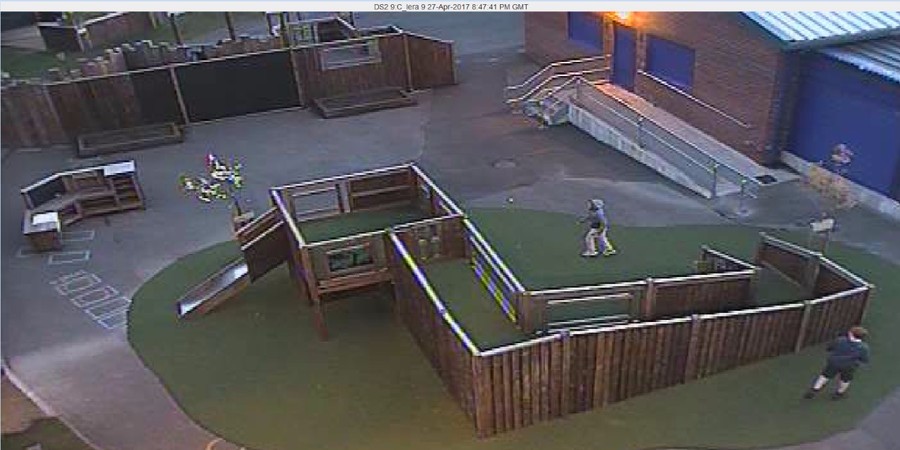 RED NOSE GIFTS!
We would like to say a HUGE thank you to Mia Fox-Jones' nan for kindly donating lots of Red Nose Day merchandise from Sainsbury's, where she works. As you can see from the photographs below, the children are absolutely delighted with them.
We would also like to remind all of our families that we are still collecting Sainsbury's Active Kids vouchers.
LIVERPOOL AUTISM TRAINING TEAM
The Liverpool Autism Training Team is part of Liverpool city council children's service. They offer training, advice and support to families/carers of a child/young person aged 0-19 years who are awaiting an assessment of Autistic Spectrum Disorder (ASD) or who have received a diagnosis. They have a long history of working together with parent support groups as well as other support services; this enables them to signpost parents and carers to
other sources of help and support. For more details of training and support please click on the link below:
SEFTON PARK VISIT
TUESDAY 4th APRIL
The children in Sefton house earned the most house points last term, and as a reward we have arranged a visit to the park on Tuesday 4th April in school time. This means that they will return to school before 3.15pm.
The children will have a guided tour of the Palm House, and have the chance to explore the park's facilities.
All children will be provided with a packed lunch, and hopefully we will be able to enjoy a picnic if the weather is kind to us.
We would like to take this opportunity to congratulate your child in helping Sefton house to win!
PARENT GOVERNOR VACANCY
We are inviting invite nominations from parents, grandparents or those with parental responsibility to fill a vacancy for Parent Governor on the Governing Body.
The successful candidate will become a full member of the Governing Body and serve for at least one year with immediate effect (however the official start date is 6th July, which is the date of the next full governing body meeting).
To be eligible for election, your child must be a registered pupil of this school when the election takes place.
Full Governing Body meetings of this school are held once per term at 4pm on Thursdays, but this could be changed if necessary to suit the convenience of the majority of Governors. Meetings usually last for approximately two hours.
Governors are also expected to be part of a committee of their choice: Curriculum & Pupil Welfare, and Resources (formerly known as Finance & Personnel and Premises). These committees are usually held at 9.30am on a week day morning, or 2pm on a week day afternoon, once every term. They usually last for an hour.
It is important that appropriate checks are made on any person who will be working or volunteering in a school to prevent unsuitable people from gaining access to children. Accordingly, new governors must agree to provide proof of identity and undergo a check in line with current advice issued by the Department for Education's Disclosure and Barring Service (DBS check).
If you require further information regarding being a governor we will be pleased to answer your queries. Alternatively you may wish to contact the city council's School Governor Services team: telephone 0151 233 3939 or email terry.brown@liverpool.gov.uk.
Please call in at the school office for more information or click on the links on the Governors page on the website.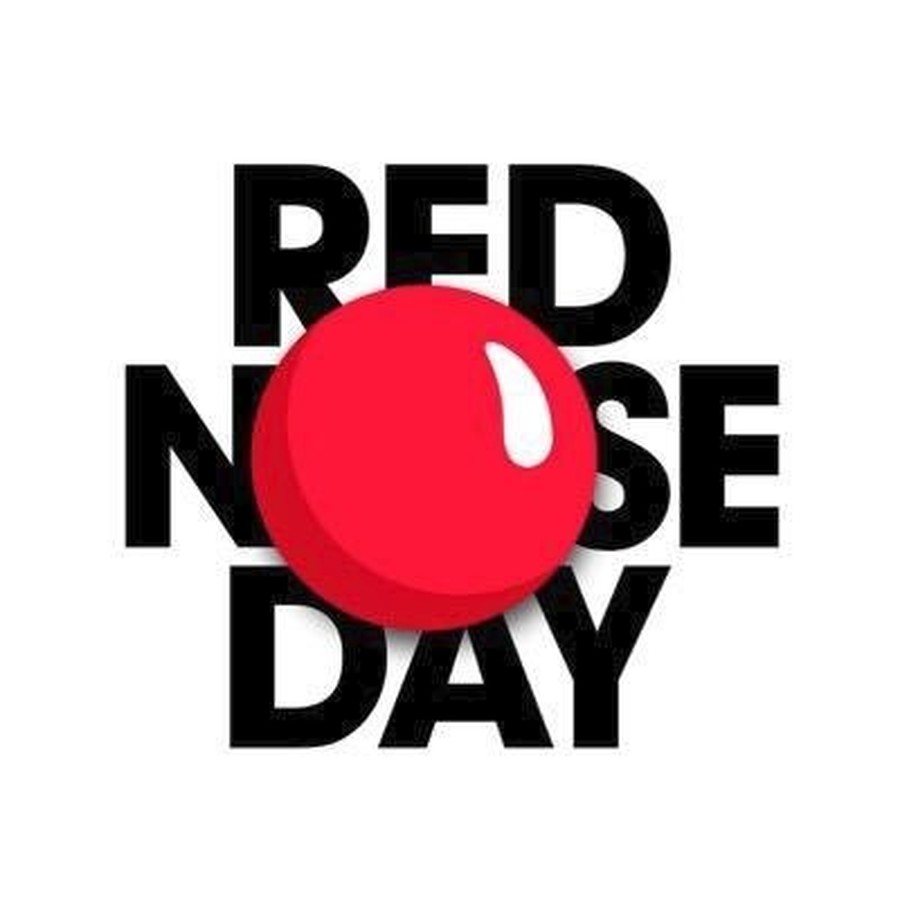 RED NOSE DAY
Friday 24th March 2017
This year we will be raising money for Comic Relief by wearing something red!
This will cost £1 per family.
EASTER SERVICE AT HOLY SPIRIT
We will be holding our annual Easter Service in church on Thursday 6th April.
Infants will hold theirs at 10am and Juniors at 2pm.
Parents and families are invited to attend.
SCARLET FEVER
February 17th 2017
Today, we have been informed of three cases of scarlet fever in school.
Scarlet fever is a mild childhood illness but unlike chickenpox, it requires antibiotic treatment. Symptoms include a sore throat, headache, fever, nausea and vomiting, followed by a fine red rash which typically first appears on the chest and stomach, rapidly spreading to other parts of the body. On more darkly-pigmented skin, the scarlet rash may be harder to spot, but it should feel like 'sandpaper'. The face can be flushed red but pale around the mouth. As the rash fades the skin on the fingertips, toes and groin area can peel.
If you think you, or your child, have scarlet fever:
See your GP or contact the NHS telephone helpline on 111 as soon as possible

Make sure that you/ your child takes the full course of any antibiotics prescribed by the doctor

Stay at home, away from school or work for at least 24 hours after starting the antibiotic treatment, to avoid spreading the infection
Complications
Children who have had chickenpox recently are more likely to develop more serious infection during an outbreak of scarlet fever and so parents should remain vigilant for symptoms such as persistent high fever, cellulitis (skin infection) and arthritis. If you are concerned for any reason please seek medical assistance immediately.
If your child has an underlying condition which affects their immune system, you should contact your GP or hospital doctor to discuss whether any additional measures are needed.
Further information may be obtained from the NHS Choices website:
www.nhs.uk/conditions/Scarlet-fever/Pages/Introduction.aspx
LETTER FROM THE DIRECTOR OF LIVERPOOL CHILDREN AND YOUNG PEOPLE'S SERVICE
In response to the Liverpool Echo's article on school league tables, and other press releases regarding school performance, Colette O'Brien has written to parents and carers of all primary school children, providing advice and guidance of where to seek clear and accurate information (Ofsted). Please click on the link below to view the letter.
Colette O'Brien's letter regarding school performance
PARENT QUESTIONNAIRE RESULTS
The latest questionnaire results are now available to view. Please click on the link below. This information can also be found in the 'School Information' tab.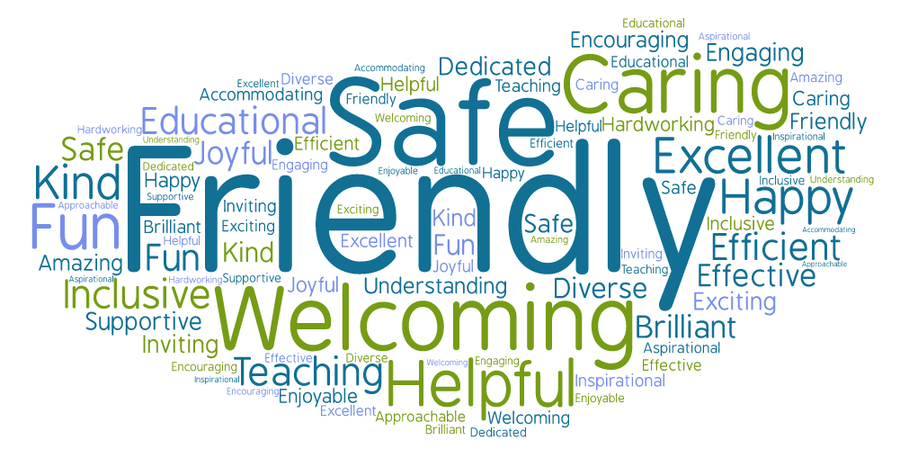 21st December - CHRISTMAS RAFFLE
Well done to all of the winners of the raffle which was drawn in this morning's whole school assembly. Thanks to the generosity of all of the staff who donated fantastic prizes. we are delighted that we raised over £250 towards school funds. Thanks to everyone who bought tickets!
ADVENT AND CHRISTMAS AT HOLY SPIRIT CHURCH
There are lots of services planned over Advent and the Christmas period at Holy Spirit Church. Please click on the yellow 'Holy Spirit Church' tab on the left of the screen to see the details.
YUMMY'S SCOUSE CHRISTMAS WRAPPING EVENT
We had a great time earlier this week when we took part in the Yummy's Scouse Christmas wrapping event here in school.We have been busy collecting donations from our families and they will all go towards providing people with a small gift on Christmas Day. Christmas dinner will be served to over 1000 people across the city and Holy Spirit Church here in Dovecot is one of the places where this will take place. Transport is available and there will be wheelchair access. If you know of anyone who will be lonely on Christmas day and would enjoy a bit of company please contact Catherine Hegarty at the church who will give you more details about how to take part - 07702785323.
The Christmas wrapping event was featured on BBC Radio Merseyside this morning (14th December). Please click on the link below to listen:
Yummy's Scouse Christmas wrapping event on BBC Radio Merseyside
BOBBY'S ON TOP OF THE WORLD!
We are so proud to announce that one of our Year 4 pupils, Bobby Howey, reached the top of the WORLD leader board in Mathletics last week!
There are millions of children who use Mathletics across the world, so to reach the top is an outstanding achievement. In just one day, Bobby earned almost 11,000 points in just under seven hours.
Well done Bobby!
9th DECEMBER - SPECIAL GUESTS AT OUR CELEBRATION ASSEMBLY!
Stephen Twigg MP and Councillor John Prince attended our Celebration Assembly this morning along with Liz Smith from KADRA. They presented prizes to the winners of the Christmas card design competition. They were very impressed with all of the entries, and thoroughly enjoyed our assembly too! Eight children received a runner-up prize of a selection box, and three winners received a £10 gift voucher and selection box. Many thanks to KADRA for donating these generous prizes.
Runners-up: Katie Lyons
Maisie Gallagher
Layton Kenyon
Caitlin Baylis
Alisha Leadbetter
Kayleigh Bishop-Fox
Bobby Howey
Erin Whittaker
Winners: Alexis McGinnity
Jamie Manwaring
Ben Antley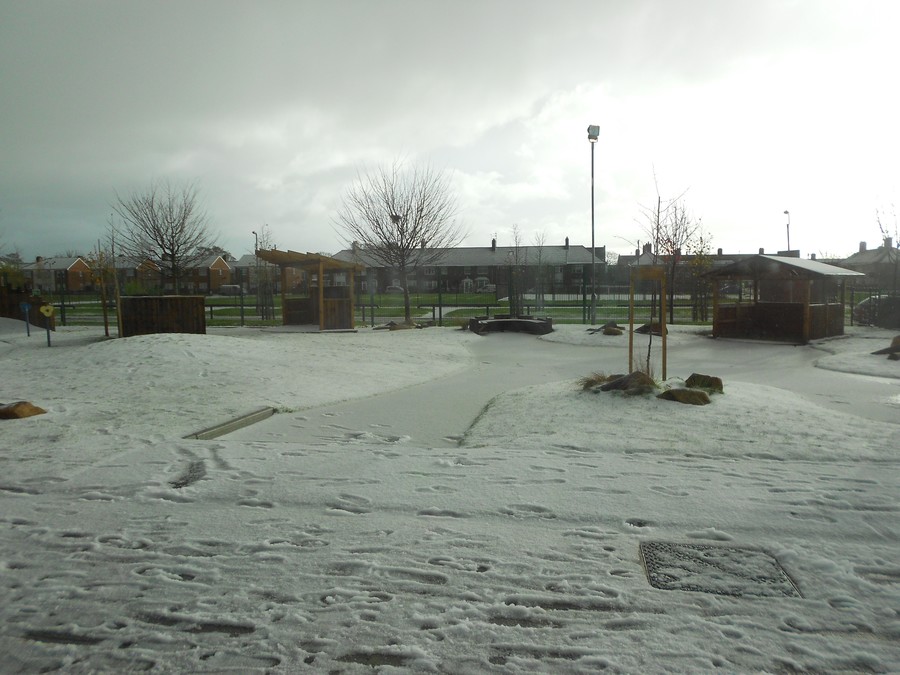 No-one expected this snowy landscape today!
YEAR 3 PARENTS' COFFEE MORNING - 19th OCTOBER
Thank you to all of the parents who were able to attend the coffee morning; we hope you found it useful. For those who could not make this meeting we have uploaded the information on the class page. Go to the 'Classes' tab on the left side of the screen and hover on 'Key Stage 2', then click on '3SP'.
YEAR 5 ARTS AWARD
Congratulations to our Year 5 pupils who have received their Arts Award from Trinity College London! This award is to recognise their participation in learning the violin or cello, finding out about other musicians and their work, and performing to a variety of audiences. The award also recognises how the children have developed their understanding of the arts and communication skills.
We are very proud of them!
OFSTED INSPECTION - WEDNESDAY 12th OCTOBER 2016
We are all very pleased with how the inspection went this week. As soon as the report has been published we will upload a link to Ofsted's website and also publish it on the website under the 'School Information' tab.
A beautiful autumnal morning at Blueberry Park...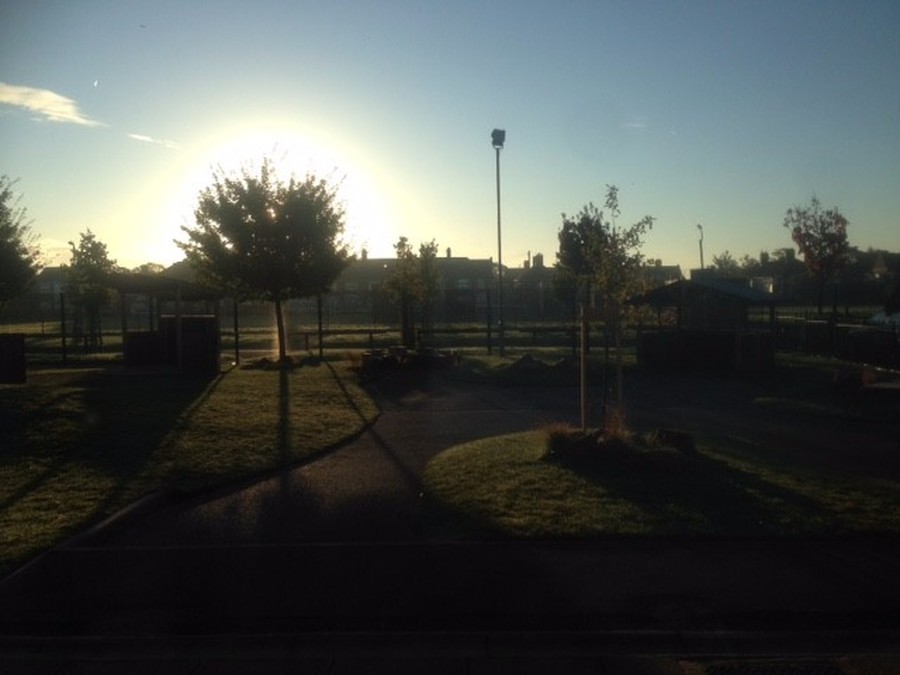 PARENT GOVERNOR VACANCY
We have a vacancy for a Parent Governor, which we hope to fill before our next Full Governing Body meeting on 24th November. For more details please click on the 'Governors' tab on the left side of the screen.
AFTER SCHOOL CLUBS - AUTUMN TERM
After School Clubs will start on Monday 26th September. Please visit the 'Extra Curricular' tab on the left side of the screen and click on 'After School Clubs' for all the details!
PREFECT TEAM
This year's Prefect Team was announced in Celebration Assembly, and the children were presented with their badges. It will be a very busy year for the team and they will keep you updated on their very own Prefect Team web page so please visit soon!
END OF TERM
We have had a wonderful few days here in school leading up to the end of term, and the beautiful weather has been the icing on the cake!
We were treated to an absolutely amazing Year 6 Leavers' Assembly earlier in the week. All of the children have worked incredibly hard throughout the year, and have handled the stresses and pressures of Year 6 superbly. We are all extremely proud of what they have achieved and look forward to welcoming them back in future so that they can tell us all about their new schools.
Our final celebration assembly was a fitting end to the school year. We had the chance to share some wonderful memories, as well as celebrate the achievements and efforts across a range of subjects. We were also treated to performances from three of our Blueberry's Got Talent finalists!
We have had such a successful year in so many different ways, and we all look forward to seeing what the new academic year will bring. We would like to thank all of our parents for supporting the school so positively and helping to ensure that, together, we give all of the children the very best possible start in life.
Finally we would like to say thank you to all of our wonderful children who have worked hard all year and all made progress in their own different ways. They really are a credit to themselves and to their families.
We would like to wish everyone in our school community a safe and happy summer holiday and we look forward to welcoming you back on Wednesday 7th September!
INDUSTRIAL ACTION
As you will be aware from coverage in the media, members of the NUT have voted for national industrial action on Tuesday 5th July 2016. Since being notified of this decision by the trade unions, the school has undertaken a risk assessment to establish the impact on the school of the strike action.
School will be closed to the pupils in the following classes:
Nursery 3 year-olds Reception NO
Reception DA 1KW
Year 3SW Year 4LG
If your child is a pupil in one of the classes affected, we ask that you make alternative child care arrangements for them on that day. Attendance will not be affected for those children in these classes due to this enforced closure.
We can inform you that the school will be remain open to pupils in the following classes only:
Nursery 2 year-olds Year 1RR
Year 2SP Year 2LG
Year 3KB Year 5JM
Year 5DH Year 6TC
As school will be open to pupils as normal for these classes, children must attend; absence will result in an unauthorised mark.
Breakfast club will be open as usual to those children who are in the classes that are in school that day. We would like to apologise for any inconvenience caused to you by this situation. The decision is not controlled by the school and all other schools are affected in exactly the same way.
PARENTS' MEETING - ANTI-BULLYING POLICY REVIEW 22nd JUNE
Yesterday we held a meeting for parents and carers to review the school's Anti-Bullying Policy. The School Council also delivered a presentation about the work we all do in school to stamp out all forms of bullying behaviour. Leaflets were also provided which give lots of advice to parents and children. Please visit our Policies page and go to 'Anti-Bullying' where you will find the links to the Powerpoint presentation and the information leaflets.
HIGH 5 NETBALL COMPETITION
On Wednesday (15th June) our High 5 Netball team took part in a competition at Wavertree Tennis Centre. the weather conditions were poor which meant that the games were cut short. This didn't bother our team though, who just missed out on reaching the quarter-finals. As always, our children behaved perfectly and were an absolute credit to Blueberry Park.
YET ANOTHER VISIT FROM THE QUEEN!
We have been honoured once again with a visit from the Queen and Prince Philip, who made an unexpected apprearance in this morning's Celebration Assembly. It was an extra special assembly as we were talking about it being not only the Queen's official birthday, but Prince Philip's 95th birthday too!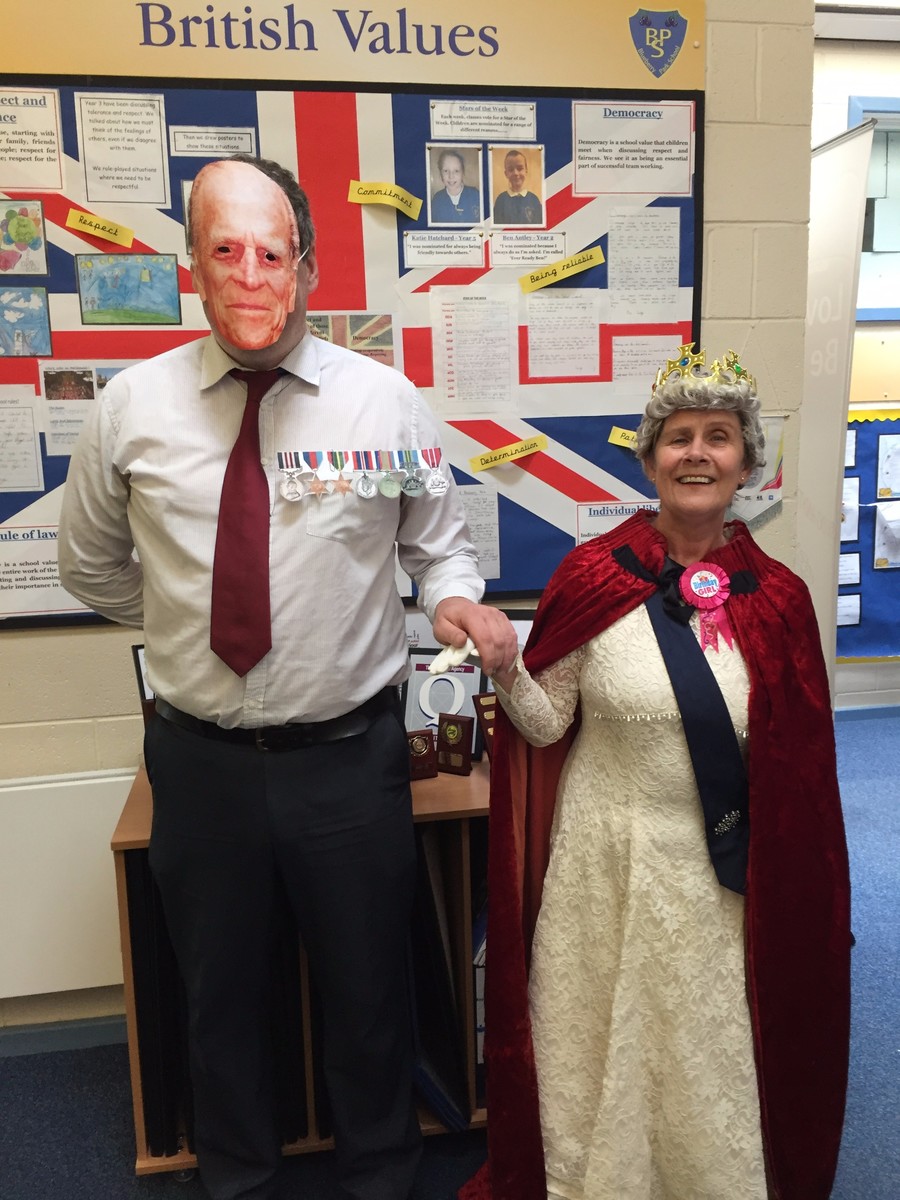 KEEPING HEALTHY - OUR THEME NEXT WEEK!
Next week (week beginning 16th May) we will be focusing on the importance of keeping healthy. There will be lots happening in and out of the classroom, and along with this our School Council will be doing some research on healthy lunches. This week's newsletter (dated 13th May) gives parents some useful information on the importance of a healthy, nutritional lunch, and we have provided some ideas for a healthy lunchbox.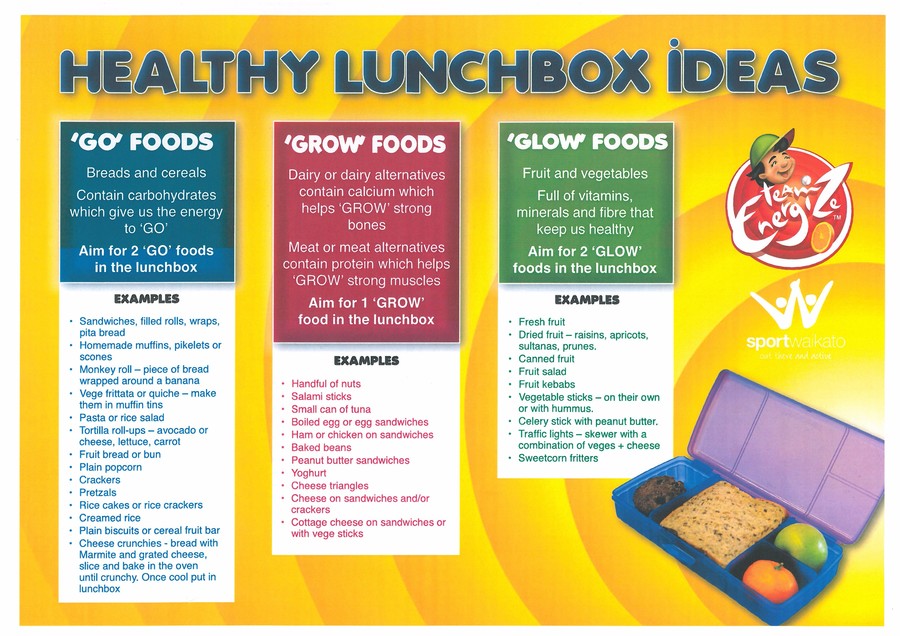 Liverpool Schools Sports Partnership (LSSP)
OUR VISIT FROM THE QUEEN!
We had a surprise guest at this morning's Celebration Assembly. Nobody knew that she was going to visit, and the children were thrilled! She spoke about her special birthday, and about her last visit to Blueberry Park when she was celebrating her Diamond Jubilee. We were all delighted that she was able to stay to award the badges to this week's Stars of the Week.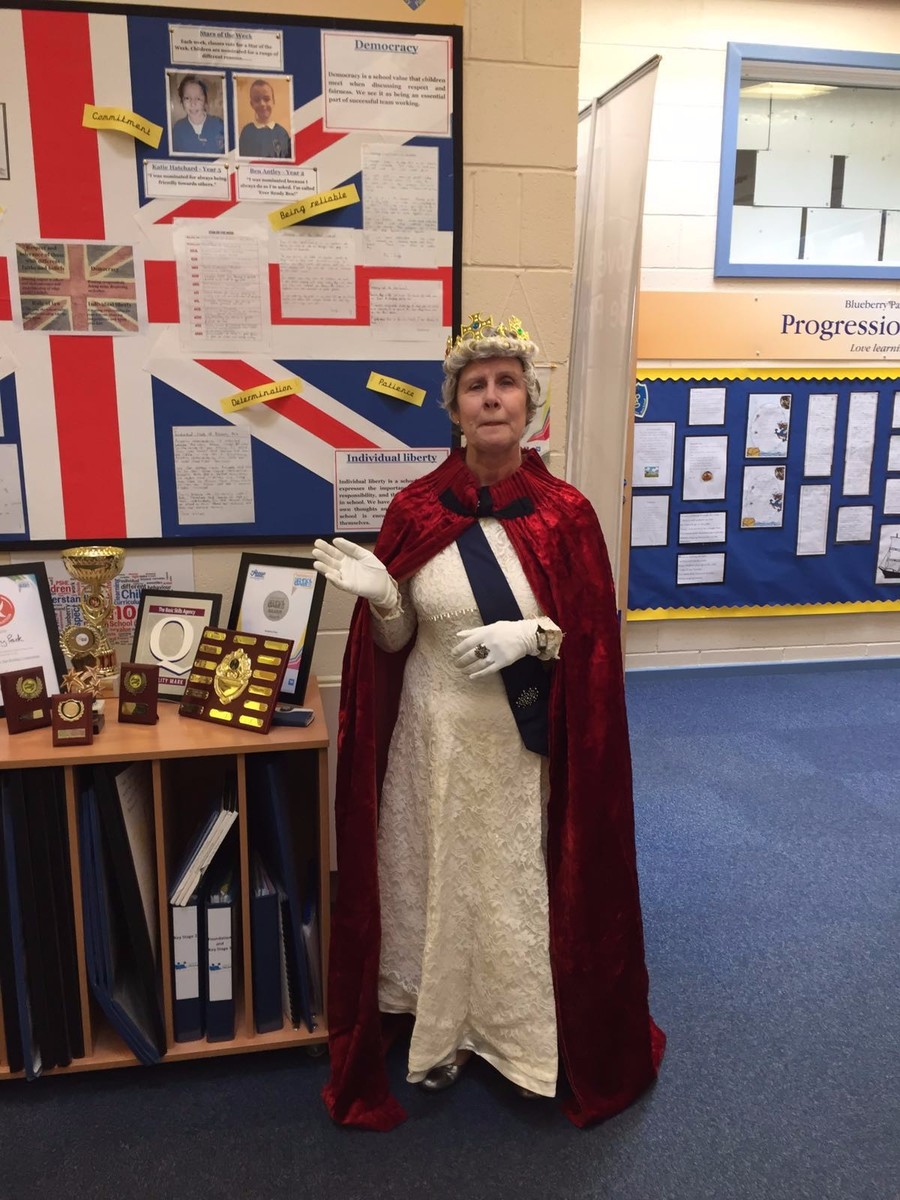 Our Reception children decorated part of their outdoor area with red, white and blue to celebrate the Queen's 90th birthday. Doesn't it look fantastic!
Queen's Jubilee Celebrations
END OF KEY STAGE STATUTORY ASSESSMENT ARRANGEMENTS
Due to the changes to the end of Key Stage 1 and 2 statutory assessment arrangements for 2016, we have written letters to parents to try to explain what will happen this summer. Please hover over the 'Curriculum & Learning' tab on the left side of this page, then click on the 'Assessment' link.
EASTER CARD DESIGN COMPETITION
Every class took part in a competition to design an Easter card. the competition was organised by members of KADRA (Kingsheath and District Residents' Association) and Riverside Housing. We had an enormous amount of entries, and our judges had a very difficult job to choose the winners. There was a winner from each class, who was presented with an Easter egg in Celebration Assembly, and there were three overall winners, who each received a large Easter egg and a Waterstones book voucher. As you can see, they are absolutely fantastic! These three designs have been reproduced onto card and the children have written special messages inside for the residents of our local care home. A very big thank you to Liz Smith from KADRA, and our Chair of Governors, Councillor Murray, for judging the competition. A special thanks also to Tesco Deysbrook for providing the Easter eggs and to Riverside Housing for providing the Waterstones vouchers (£30 for 1st prize; £20 for 2nd prize and £10 for 3rd prize).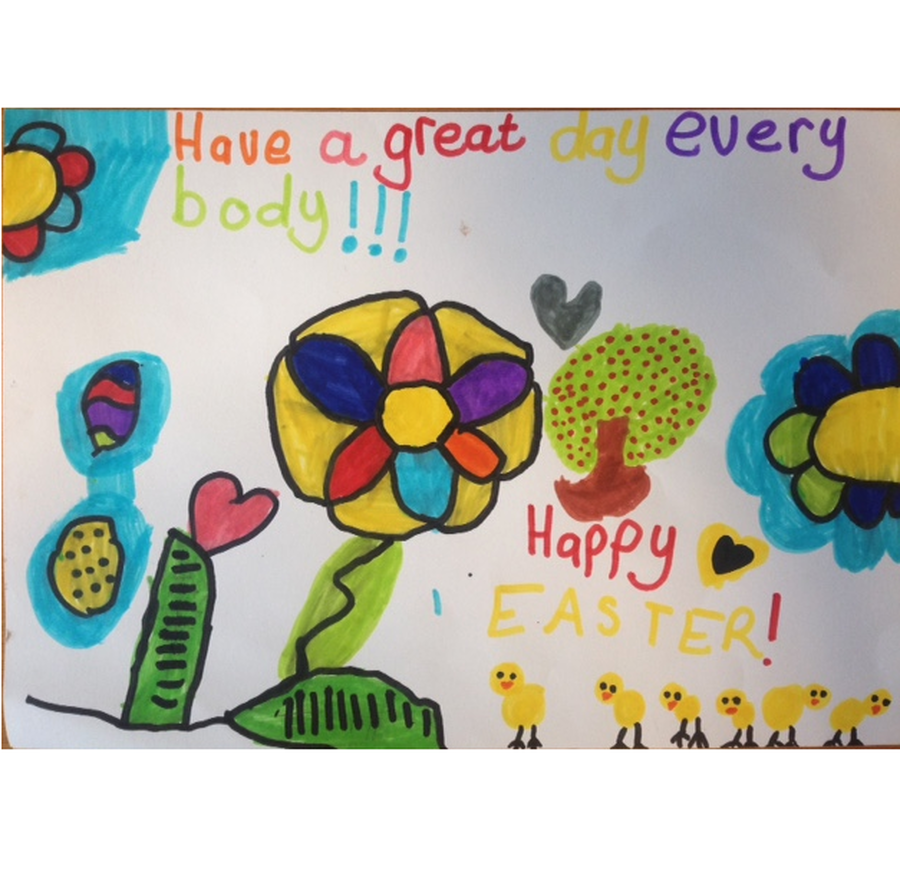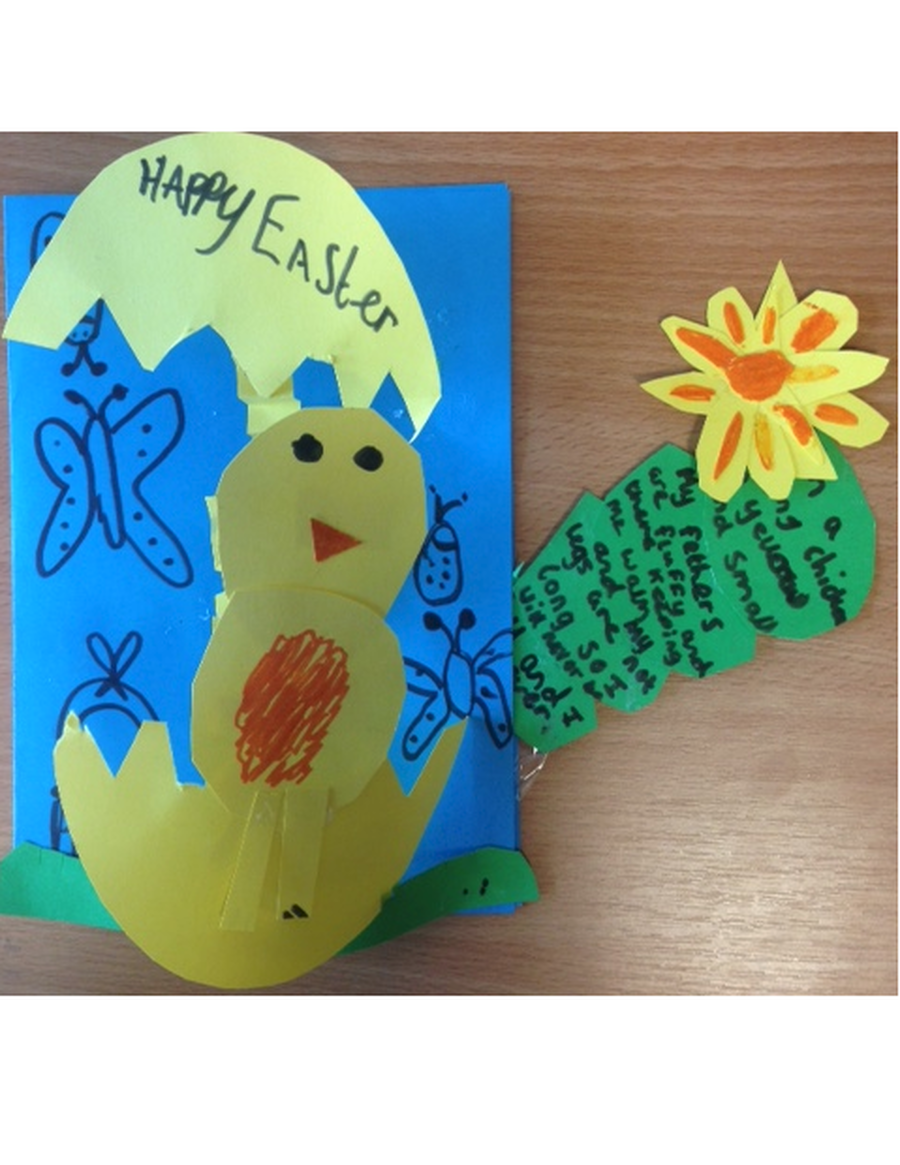 2nd place - Courtney Year 5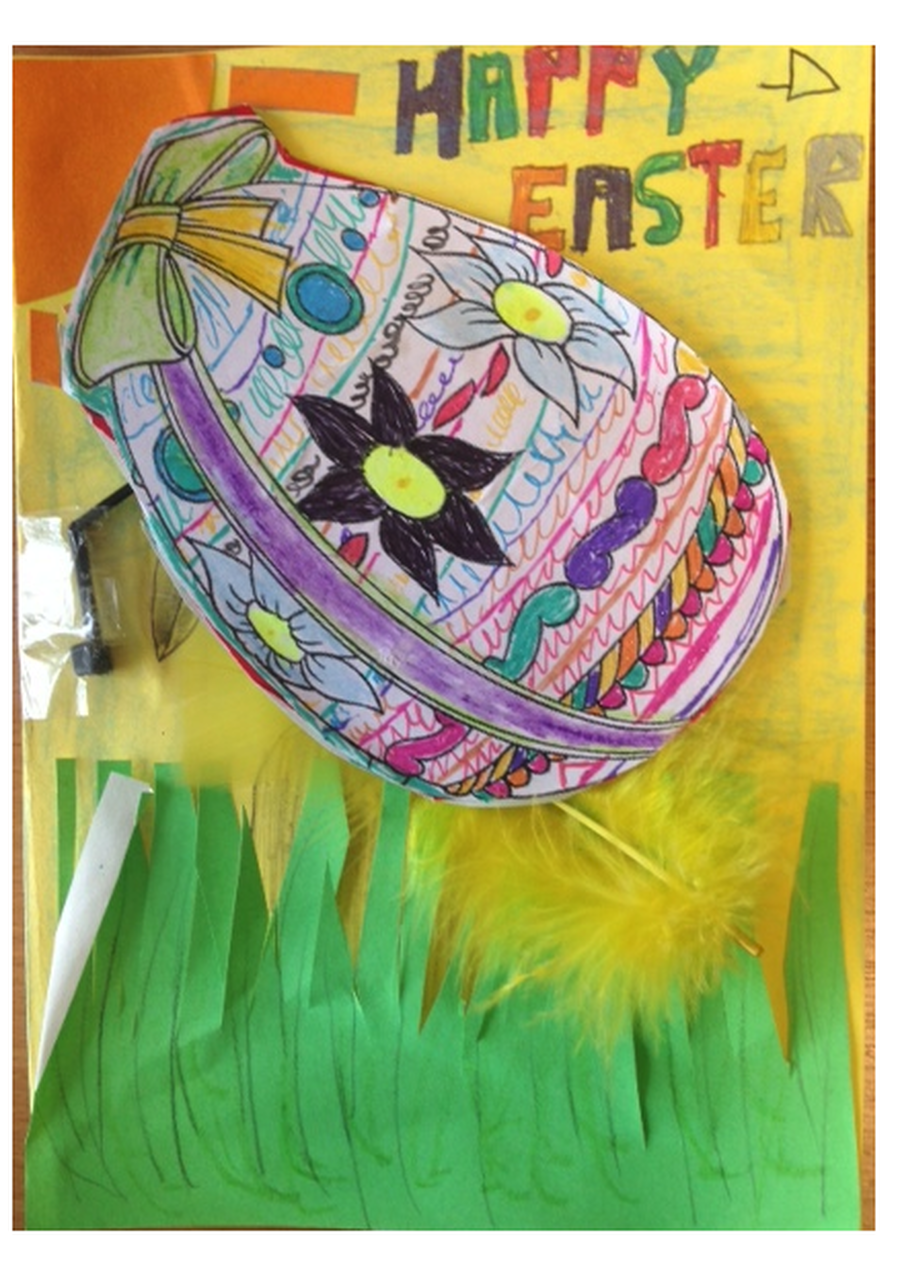 3rd place - Madison Year 6
DODGEBALL COMPETITION
We had two teams competing in a Dodgeball competition at Broadgreen International High School yesterday (25th February). Both teams, consisting of Year 5 and Y6 pupils, behaved impeccably throughout the competition. They performed amazingly well and did our school proud!
After 11 games, both teams finished in equal 6th place out of 12 teams.
Well done everyone!
LETTER FROM HER MAJESTY THE QUEEN!
Kaitlin was absolutely delighted to receive a letter from Her Majesty the Queen this week! She attends Creative Writing Club and she wrote to her to ask her about her amazing life, and tried to ask questions that she might not usually get asked. She is so thrilled to have received a reply, and so is everyone in school!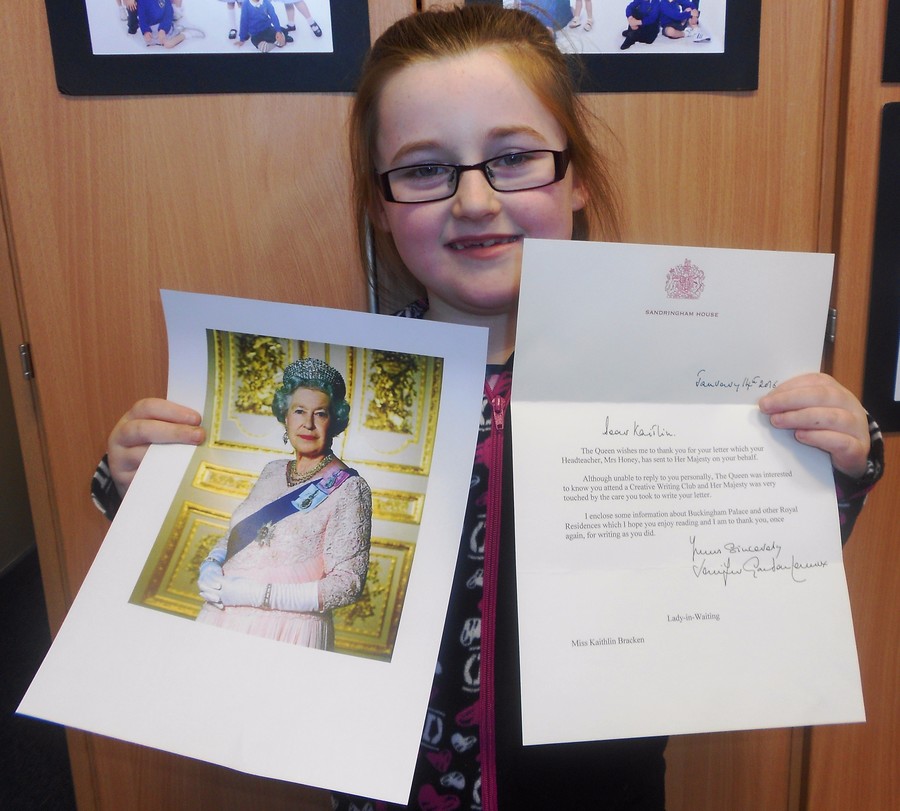 PARENT GOVERNOR VACANCY
We have a vacancy for a Parent Governor; the deadline for nominations is Thursday 28th January.For more details please visit our 'Parent/ Carers Letters' page.
NEW NURSERY SESSION TIMINGS
We have slightly altered the timings of the Nursery sessions, and this change will begin on Monday 18th January. Morning session is 8.30-11.30 and afternoon session is 12.30-3.30.
For more details please visit our Nursery page.
LETTER FROM 10 DOWNING STREET
Two members of our creative writing club were delighted to receive a letter from the Prime Minister this week! Kaci and Lexie wrote to David Cameron to ask him about life as the Prime Minister, and tried to ask questions that he might not usually get asked. The girls received a reply, along with a signed photograph, and are absolutely thrilled that he found the time to reply!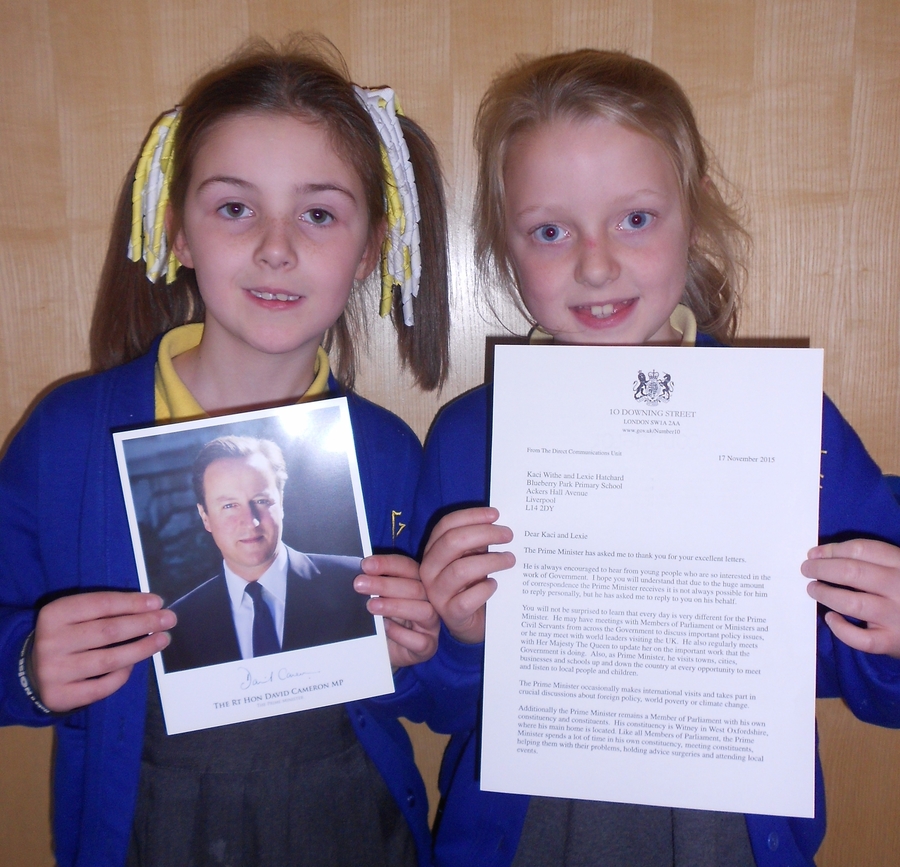 MATBALL COMPETITION
On Tuesday (3rd November) our Year 2 Matball team played in a competition at St Julie's High School in Woolton. There were eighteen teams representing different schools from south and central Liverpool.
Our team were amazing and represented Blueberry Park impeccably! They played three games, winning one, drawing one and losing one. This meant that they narrowly missed out on a place in the semi-final play-offs.
Once again our children have done us proud representing the school with perfect behaviour before, during and after the event.
Mr Leadbetter is proud to say that the team played with determination, respect, honesty, self-respect and teamwork. They should all be very proud of themselves:
Riley McGee, Summer Jones, Francis Dixon, Tegan Day, Lincoln Welsh, oscar Sell, Phillip Lynch and Scott Eyres.
NATIONAL POETRY DAY - 8th OCTOBER 2015
We will be taking part in lots of fun activities next Thursday to mark National Poetry Day. For the first time, we are inviting our parents (including grandparents, aunties and uncles!) to take part.
Your poem can be about any theme at all, and it can be any style of your choice, but it must be an original piece of work.
There will be a special prize awarded to the winning poem, and it will also be published in next week's newsletter and on our website!
So please get involved!
Closing date for entries is Wednesday 7th October.
REFUGEE CRISIS
REFUGEE CRISIS
Europe is facing its worst refugee crisis since the Second World War. So far in 2015 more than 350,000 desperate people have made the perilous journey across the Mediterranean Sea. For those who survive the treacherous journey, the terrifying ordeal is not over. Families often arrive in Europe scared and exhausted.
We can do something to help!
We are asking for donations of non-perishable food to send to the Refugee Action Group, who are currently working hard to produce food bags.
We welcome any of the following products:-
Tinned kidney beans, chickpeas, green beans, tomatoes; rice, flour, sugar, tea, coffee, uht milk, oil.
Please visit their website for more information:
http://www.refugee-action.org.uk/
YEAR 2 CHILDREN
From Tuesday 8th September, Year 2 children should be dropped off and picked up from the Infant playground outside their classroom doors. Parents may use the main entrance and go through the gate next to breakfast club, or use the gate on the corner of Ackers Hall Avenue and Allesley Road.
PARENT VIEW
Parents and carers can complete an on-line questionnaire about Blueberry Park Primary School. Click the 'Parent View' tab and follow the instructions.
FRENCH WEEK
Children and parents are looking forward to all things French this week (July 13th & 14th). Assemblies, food tasting and a range of activities are on the menu. Photos will be on the gallery before the end of term!
CHESTER ZOO TRIP
Children from Reception to Year 5 enjoyed our annual trip to Chester Zoo. It was the warmest day of the year but the children and staff were extremely prepared, and all had a great time! See the photo gallery for more!
TRIP TO STANLEY PARK
All of the children and staff in Stanley house enjoyed a visit to Stanley Park to celebrate their win in the house point championship last term. Take a look at the photographs on our Photo Gallery page.
EASTER SERVICE AT HOLY SPIRIT CHURCH, DOVECOT
Well done to the Infant children who held their service in church. They were all absolutely fantastic! Their singing was beautiful and they also read with such expression and so clearly too! We are all extremely proud of them.
Reverend Judith has kept the artwork that the children have produced and she will be displaying it in church after Good Friday. There is also a link to the church's Facebook website so you can see their work online. Just log onto Facebook and search for Holy Spirit, Dovecot, Liverpool.
ARTS WEEK - 23rd to 27th MARCH
We have had another exciting day in school today! Molly, our artist in residence, has been holding workshops with Year 2 and Year 6. Years 2, 4, 5 & 6 have also enjoyed a Messy Morning/ Afternoon. Thanks to all of our parents who attended! Years 3, 4 and 6 have been busy decorating cakes too. Tomorrow will be as equally exciting, with 'Circusology' working with all classes, and Years 5 and 6 enjoying drama. Reception classes will also be enjoying their Messy Morning.
This week is packed with exciting events and activities! Today (Monday) we have performances from Broadgreen International School, an artist in residence, a photographer, and a special performance from a visiting company.
This is a fantastic start to a very exciting week!
WORLD BOOK DAY - 5th MARCH
The children, and staff, look absolutely fantastic today, all dressed as one of their favourite book characters! Photographs to follow very soon........
We currently have the chicks in school again, the children have the opportunity to watch the chicks hatch and see how big they grow for the next two weeks. Some of the chicks have already started hatching and we have a video below of todays new arrivals.
YEAR 4 ASSEMBLY FOR PARENTS - 9th February 2015
Yesterday's assembly was absolutely fantastic! We found out all about the work they have been doing this term in class. They have learned about volcanoes, mountains and earthquakes. Their assembly included Music, French, Computing, Geography, History, English, Art, Singing, Rapping, Drama and Cookery!
Thank you to all the parents who were able to attend - we are sure that you were very impressed with their performance!
SAVE LIVERPOOL CHILDREN'S CENTRES
Liverpool City Council have announced a 72% cut to Children's Centres, this will have a devasting impact on the children and families of Liverpool. We ask that the Government reconsider the disproportionate funding cuts to Liverpool City Council, one of the most deprived communities in the country.
Please sign the e-petition:- http://epetitions.direct.gov.uk/petitions/61493
Week beginning 2nd February: Storytelling Week
We have got visitors in school all week who will be reading to the classes. They include members of our Governing Body and Reverend Judith from Holy Spirit Church. Parents are also invited into school on Wednesday 4th (Juniors between 9.00 and 9.30 am and Infants between 11.30am and 12 noon) to read with your child.
Stephen Twigg
Labour MP for Liverpool West Derby, representing Croxteth, Knotty Ash, Norris Green, Tuebrook & Stoneycroft, Yew Tree and West Derby
"Inspiring visit to Blueberry Park Primary School in my constituency - dedicated staff, great leadership, happy children & very good results."