Year 5/6 DC all dressed up for NSPCC National Number Day (Friday 7th February 2020)
Miss Clark's Weekend Literacy Challenge - Look out for journalistic writing e.g. in newspapers, online or on the news or radio. Can you identify any features?
Miss Clark's Weekend Maths Challenge - Find examples of when we use fractions in the home e.g. dividing a pizza!
Welcome to Year 5/6 DC
Miss Clark and Miss Kane
Hola! Buenos Dias!
Our classroom is a fun and engaging environment, full of resilient and hard working pupils. Year 5/6 DC have been working so hard since our first day together in September 2019 and are gaining knowledge and skills which they can use across the curriculum. As a class, we have been working hard to improve our understanding of the use of the four operations when dealing with fractions and have begun to calculate fractions of amounts in mathematics! And it doesn't stop there - in English we have created a class autobiography book and are now learning about journalistic writing. Look out for our news paper reports on the school twitter page in the coming weeks!
I am responsible for leading PSHE across the school and believe that it is a vital subject in preparing children for life outside of Blueberry Park Primary School. We recently attended a 'Crucial Crew' trip which provided the children with valuable information in keeping safe in school, out of school, in the community and online - Year 6 represented our school well and got involved in each of the workshops. Year 6 is an important and often very exciting year with fabulous trips and opportunities and lots of important learning. After February half term, we have an exciting science trip planned! Watch this space!
We always try to be the best class in the school and feel that because we are the eldest, we should be role models for the younger Blueberries. Exemplary behaviour and a super attitude to learning is rewarded and celebrated in our class!
Keep being super stars 5/6 DC!
Parents and carers please keep an eye on this, our class page, for updates on what we do in class and for pictures and examples of your children's work.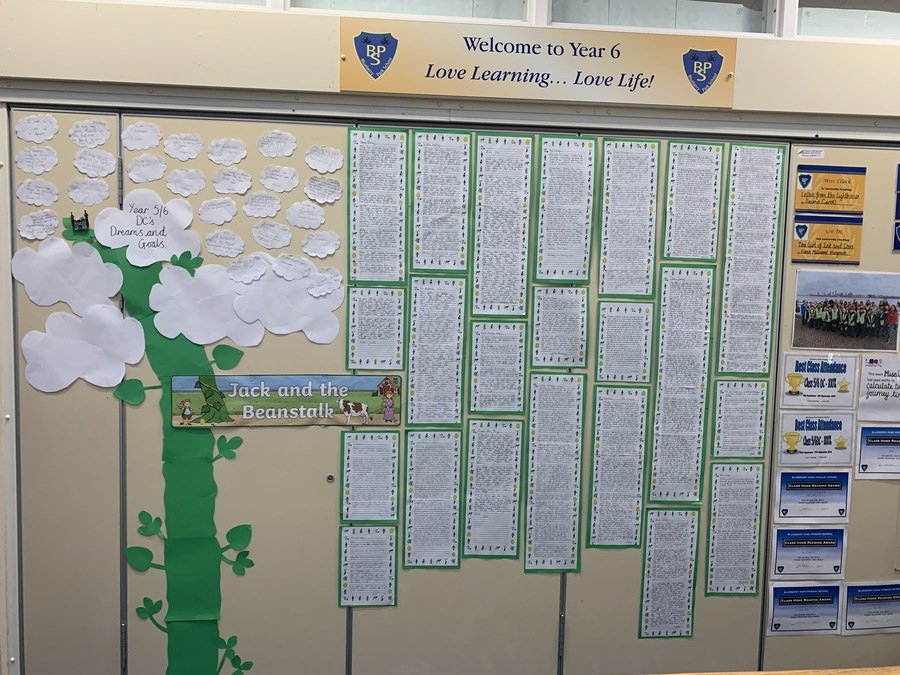 Miss Clark and Miss Kane are so very impressed with our recent children's choice writing about Jack and the Beanstalk. Our beanstalk links well with our PSHE theme this half term; dreams and goals.
We have amazing aspirational goals in Year 5/6 DC; from future teachers to scientists! Keep working hard to achieve your goals!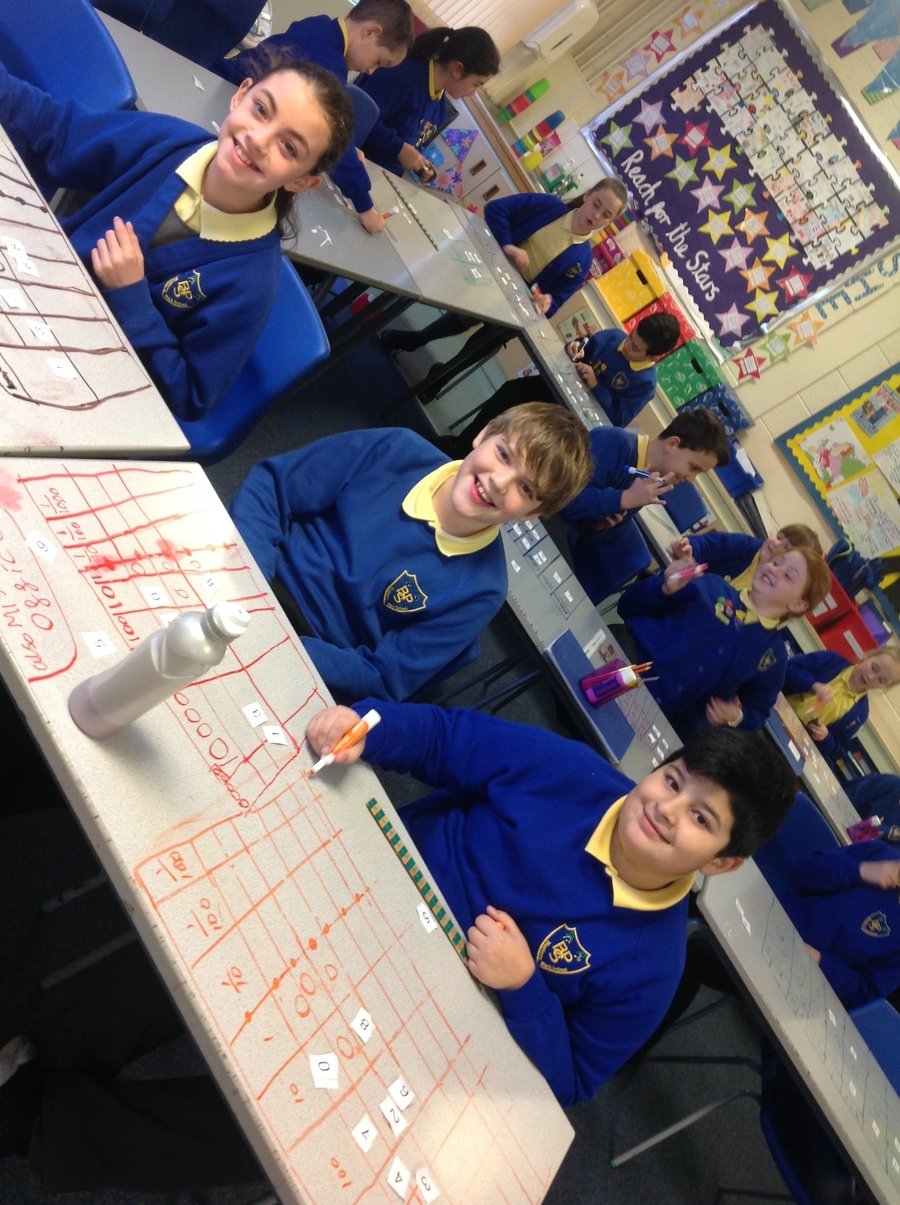 Important Information
Our PE days are Monday and Thursday. Please ensure that you have a full school PE kit in school on both of these days.
Homework is given out every Friday and will be monitored during the week.
Spelling and times tables tests will be carried out on Fridays. Consistent scores on these weekly tests will lead to prizes!
VIPERS Reading Comprehension
We are studying different question types to help us effectively answer reading comprehension questions - this will help us in our SATs in May!
V - Vocabulary
I - Inference
P - Prediction
E - Explanation
R - Retrieval
S - Summarise
Our Class Target
One of our main targets this year is to improve our reading comprehension skills and there are a number of ways in which we can do this.
Please read with your child each night at home. This will increase their vocabulary and their pace of reading.
Miss Clark will provide your children with comprehension questions in their reading record books at least once every fortnight.
Science in Year 5/6 DC
Our science topic this term is Circulation.
We have been investigating the different components that make up blood! We even made our own models of blood!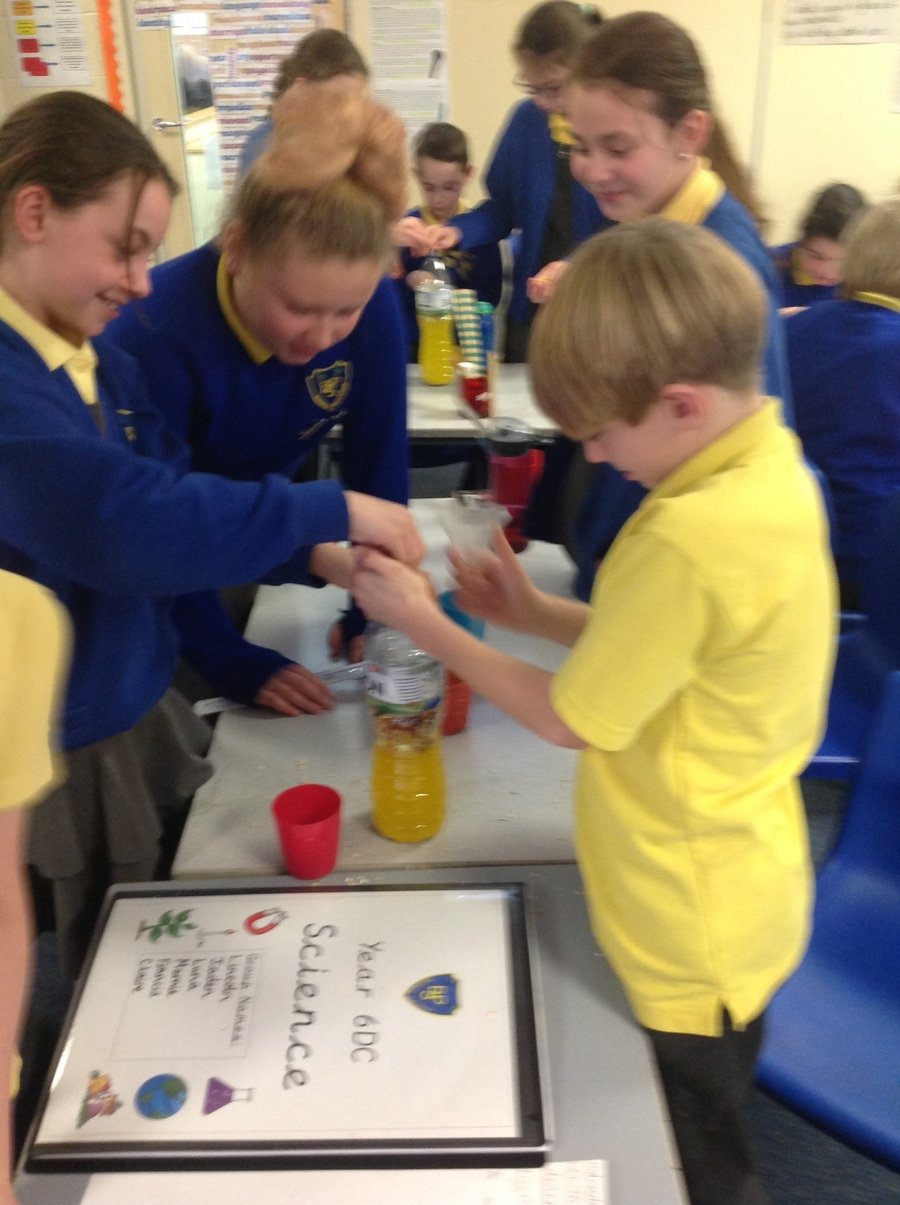 Times Tables Rock Stars
Every child in our school has a TT Rock Stars login (you will find this inside the cover of your child's homework book).
Miss Clark (or Jeff Squeakdiggler which is her rock star name) sets us regular challenges on this website which can be accessed online and on the TT Rock stars app.
This is an additional, worthwhile activity which will help us with our SATs arithmetic paper.