Be Sun Smart!
Be Sun Smart!
27 June 2018 (by khoney)
Help us to make sure our children have fun in the sun!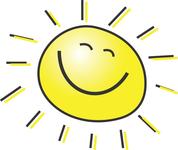 Just a reminder that the glorious weather is due to stay with us for the rest of the week and into the weekend. It is wonderful to see so many children coming to school wearing sun-hats and sunglasses, and so many with their own sun-screen too. May we remind you to ensure that your child brings a water-bottle into school every day - the children are strongly encouraged to re-fill their water bottles regularly throughout the day, helping them to stay hydrated whilst enjoying the sunshine!
The school has a Sun Protection Policy which is available to view and/ or download on our website. Alternatively, paper copies are available from the school office.